4 Rustic Trends that Add Character to Your Home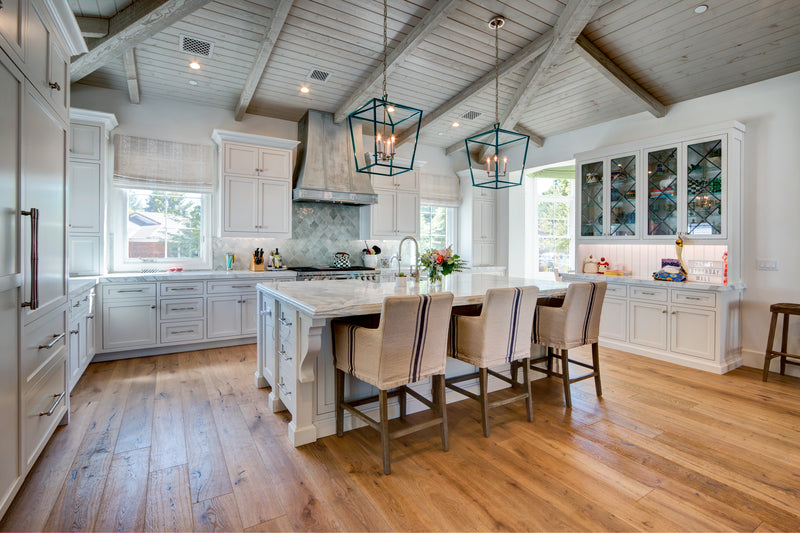 Rustic farmhouse decor is an extremely popular interior design theme. The trend is simplistic, affordable, and looks good in almost any room. The relatively easy concept also ensures your home contains an appealing and professional flow throughout the home. Here are four trends to look at when redesigning your home with a rustic glow:
Tarnished Antiques
Weathered antiques are a must-have when it comes to creating a rustic feel. Decorative accents like baskets, vases, frames, and mirrors make the home feel more cozy and full. You should be pretty selective when it comes to your accent pieces. Instead of a bold black mirror opt for one with white-washed barn wood. Similarly, skip the standard clear vase and get creative with an old mason jar or piece of pottery. Rustic metal lanterns, terracotta pottery, and thick woven baskets are a few other popular home accents if you're shooting for a rustic edge.
Rustic Doorways
Doorways and entryways set the tone for your home. Hinged or sliding barn doors are a popular alternative to your standard turnkey doorway. Artisan Hardware explains that one advantage of sliding barn doors is "the versatility it gives each room. A pair of sliding barn doors offers privacy when closed and helps give the appearance of a more open floor plan when open." Barn doors can be used on garage frames, pantries, or closets, and can add major rustic appeal to your home. Just note that you'll need the appropriate hardware to ensure you hang them properly.
Wood Beams
According to DesignRulz, "One of the grandest design features you can put in any home is an open ceiling with exposed beams. … First, the open ceilings create such a large breathable space, secondly, the extra ceiling height can make your home seem brighter." Long wooden ceiling beams create warmth and add some charm and contrast to an otherwise unnoticed part of the house. Wooden beams automatically increase the rustic look of a home and exposed wood is extremely popular, offering tremendous resale value. Exposed beams are extremely popular in more cozy spaces like a living room, office, or bedroom.
Unexpected Greenery
Greenery is an important component of any interior design scheme, but it can definitely make or break the rustic charm feel. Fresh greenery should be incorporated into every room multiple times throughout the home. You'll want to get creative with how you position this element. Placing a potted plant inside a wire basket or hanging one from the shower are unique and unexpected ways to display greenery. Both your family and guests will enjoy these subtle details and you'll find your home feels more cozy and secure.
These are just a few of the many rustic design trends on the market today. These pieces are sure to give your home the warmth and charm you've always wanted.
Jorge Daniel Tapia Sidas